Sophy Hollington on illustrating HAG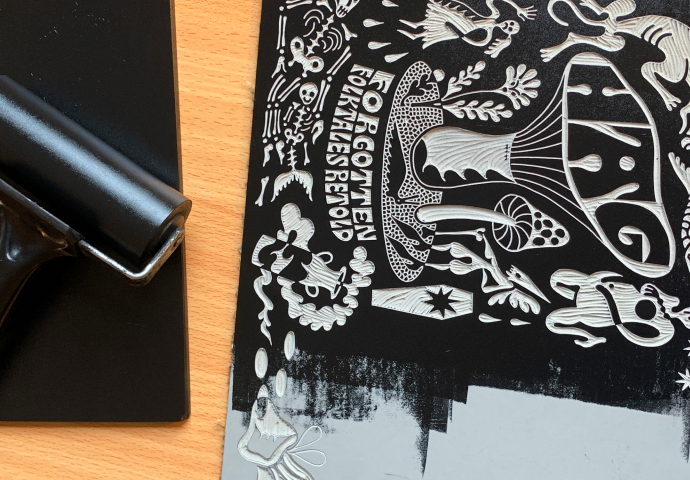 Illustration: Sophy Hollington
Art direction: Charlotte Stroomer
Imprint: Virago
Published: 08/10/2020
ISBN: 9780349013596
RRP: £12.99
DARK, POTENT AND UNCANNY, HAG BURSTS WITH THE UNTOLD STORIES OF OUR ISLES, CAPTURED IN VOICES AS VARIED AS THEY ARE VIVID.
Here are sisters fighting for the love of the same woman, a pregnant archaeologist unearthing impossible bones and lost children following you home. A panther runs through the forests of England and pixies prey upon violent men.
From the islands of Scotland to the coast of Cornwall, the mountains of Galway to the depths of the Fens, these forgotten folktales howl, cackle and sing their way into the 21st century, wildly reimagined by some of the most exciting women writing in Britain and Ireland today.
'A thoroughly original package that has a hint of Angela Carter' The Times
'Sharp writing and cleverly done' Spectator
Sophy Hollington, the illustrator of HAG, discusses her design process.Why is lino-cutting your medium of choice?I felt I had something unique to say with it. It's built-in parameters force me to approach composition in a way that I don't think I ever would have otherwise…it's bold and immediate whilst retaining an element of expression that's so hard to recreate digitally – so I don't! With relief printing being such an ancient process, it also retains this archaic vernacular that as an image-maker you can play with and subvert and I love that.
What did first think when you received the brief for HAG?
That it was the perfect book cover for me to cut my hard-back chops on. In my own work I try to unite the intrigue and magic of the past with contemporary ideas and language, and HAG seemed to do the literary equivalent. For it to be a solely female cast of writers made it extra magical.
Are you particularly inspired by fairy tales and the uncanny in your work?
Certainly. I'm really interested in what ancient beliefs and traditions (especially the weirder ones) can tell us about who we are now and how we got here. Like most humans I've always been drawn to strangeness and exploring it in my art is a way to get to know it, name it and own it…to become unafraid somehow.
How did you visualise what the characters would look like?
I felt my way through it. I'm always trying to surprise myself with new ways of representing things, be they objects or characters. I think the slightly rubbery quality to the folks on the HAG cover came through the process of fitting all the elements from each story around each other.
Which illustration was the most fun to draw?
The central HAG mushrooms with the pisksies and slug.
Do you think there's an element of the feminine divine or female strength in your artwork?
I think there is. I designed a tarot deck a couple of years ago and this led me to come face to face with and reimagine certain female archetypes that initially I was wary of. I'm interested in broadening the scope of how femininity can be expressed and symbolised…moving away from tropes and inventing a new lexicon that's as strong, weird, vivid and ferocious as it should be.